Approximately 35 species of marine fishes, including the family Bramidae (of order Perciformes) and its representatives, can be found in the Pacific, Indian and Atlantic oceans. Pomfret Fish refers to any of these marine creatures.
Pomfrets are included in a particular category of fishes, known as Perciforms.
Genus
This species of fish can be found in as many as eight genera. Of these, four of the major ones are:
Brama
Eumegistus
Pterycombus
Taractichthys
The Brama genus comprises of the highest number of Pomfrets. It consists of at least eight distinguished species of the fish.
Picture 1 – Pomfret Fish
Features
The chief physical features of these fishes are:
Flat bodies
Long, single dorsal fin (extending along the entire body)
Deeply forked tails
These are bony fishes. Their body comprises of two nearly isolated fins that include:
A dorsal fin near the head
An anal fin near the tail
The dorsal fins are almost always bigger than the anal fins in size. In Pomfrets, these taper off to transform into the anal fin. This feature is unique to these fishes and is unlike other perciformes. In this type of fish, the crest of the dorsal fin often stretches back far towards its tail.
Habits
These fishes generally live in the lower columns as well as the surface of water. These move in large schools and do not shoal like mackerel or sardines.
Atlantic Pomfret
Whereas commercial fishing is concerned, the Atlantic Pomfret is the most important species of Pomfret. It is also known as Black Sea bream or Angel fish. The creature spends most of its life at a depth of about 1,000 meters (3,250 feet) and feeds on mollusks and smaller fishes. It can be found in different regions of the Atlantic, Indian and Pacific oceans.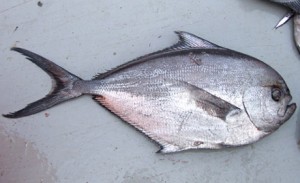 Picture 2 – Atlantic Pomfret
The scientific name for this species of Pomfret is "Brama brama". The fish is large in size and is found to grow up to 1 metre (3.3 ft) in length. It is a popular food item for people residing in China as well as other areas of south Asia.
Pacific Pomfret
These are deep-bodied fishes and consist of deeply forked tails. Young fishes of this species often vary considerably from adults in fin and body shape. Blunt-headed varieties of Pacific Pomfret (Brama japonica) can be found in large quantities throughout the north Pacific region.
Indian Pomfret
Pomfrets are one of the most popular items in the menu of Indians. These can be found almost everywhere in the tropical sea of the Indo-pacific area. The fish can be spotted all along the coast of the Indian subcontinent. However, it is mainly found in
Gujrat
Coasts of Bombay
Orissa
Eastern coast of lower West Bengal
The three species of Pomfret, which are mainly found in Indian waters, include:
Parastromateus niger (Black pomfret)
Pampus Sinesis (Grey pomfret)
Pampus argentius (Sliver pomfret)
The Silver Pomfret is the most common of these three species, followed by P.niger and P.chinensis. These are are commonly found on the west and east coasts of India.
Silver Pomfrets
This Pomfret variety is found in India and is scientifically known as "Pampus argentus".. The fish first attains its maturity at 27-28 cm. It grows to a maximum size of about 33 cm. It spawns from October-December in the coasts of Mumbai. Young ones of this species are found from January to March in the inshore areas. Elder varieties are generally caught between April and June.
Picture 3 – Pomfret Fish Picture
This fish is identified by its unique physical features like:
More or less rhomboidal shape
A blunt nose
A long, single dorsal fin
A caudal fin with long lobes
Pointed and highly extended lower caudal lobes
As the fishes grow older, their lobes shorten in length. Adults of this variety are silvery white in color and have tiny silvery scales on their body. However, they turn black in appearance when approximately five to eight centimetres in size. On an average, a fish of this type weighs about one kilogram and is nearly thirty centimeters long. The largest Silver Pomfret was found to be two kilograms in weight and having an approximate length of forty centimeters. This is an offshore creature and usually prefers to live at a depth of 20-40 fathoms. It exists in the middle column of water but closer to the bottom.
Grey pomfret
It is larger, heavier and broader in size than the silver variety and consists of shorter caudal lobes. As the name indicates, it is grayish in color. It is more commonly found in the Gulf of Kutch than in the southern regions.
Black pomfret
Picture 4 – Black pomfret
It is larger in size and more elongated than the silver variety. The largest of these fishes are sixty centimetres long and weigh five kilograms. Contrary to its name, it is actually dark grey in appearance. It has a slender tail region (caudal peduncle) which is hard and covered with scutes or thick scales.
What Does the Pomfret Fish Eat?
This seem to be a mid- water species which lives at a great depth during the earlier stages of life. Young fishes of this species mainly feed on small crustaceans, such as Lucifer and Acetes. In mature stages, the fish changes its habitat. Older fishes primarily feed on
Macro zooplankton
Salpids
Hydromedusae
The switch of habitat is supposed to be one of the reasons for the change in food habits of this creature.
Nutritional Value of Pomfret Fish
The nutritional value in per 100 gms of Pomfret fish is stated below:
Calories – 102 (428Kilojoules)
Cholesterol – 24mg
Total oil (fat) – 1. 2g
Saturated fat – 31% of total fat
Monounsaturated fat – 38% of total fat
Polyunsaturated fat – 31% of total fat
Omega-6, AA – 15mg
Omega-3, EPA – 23mg
Omega-3, DHA – 197mg
Silver Pomfret Nutritional Value
The nutritional value of Silver Pomfret, as in 100 gms of it, is given below:
Water- 70.8 g
Protein – 17.1 g
Lipid – 10.9 g
Ash – 1.2 g
Interesting Facts
Know about some interesting facts associated with this species of fish.
Some species of this fish are also referred to as "Monchong", particularly in Hawaii.
Grey Pomfrets have more commercial demand than Silver Pomfret.
Pomfret was earlier known as "Pamflet", which is supposed to have originated from the Portugese word "Pampo".
Pictures
Here are some images of Pomfret Fish:
Picture 5 – Pomfret Fish Image
Picture 6 – Pomfret Fish Photo
LINK COURTESY: http://www.animalspot.net/pomfret-fish.html